1. Let's see what ants can be found.

Put honey that has been 3-fold diluted with water into an alminum foil dish and place it around your house or in a bush or forest, then wait and see what types of ant appear.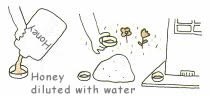 After a while, see what has happened and if many ants are swarming to the area, collect them.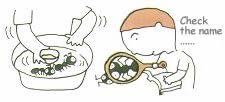 <! 名前を調べる。>

Wash the alminum foil with water in a washbowl and pick up any floating ants.



| | | |
| --- | --- | --- |
| Write the ant name, the place where it was collected, the date it was collected, and the name of the collector. | Soak the ants in 80% alcohol. | |
2. Food examination

If you watch an ant nest, you will learn about the kind of food that each ant carries to the nest. Pick up each food and examine it.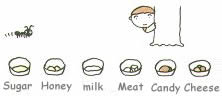 <! 砂糖(さとう) 蜂蜜(はちみつ) 牛乳(ぎゅうにゅう) 肉(にく) あめ チーズ >


Put sugar, honey, milk, sausage, etc. on an alminum foil dish.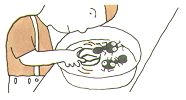 As with the honey, wash the alminum foil dish with water in a washbowl and collect any floating ants.