Put your ants into the box by blowing.
Give the ants food on an aluminum foil dish. Remove the plate when the food has been consumed.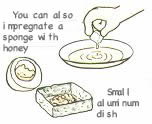 <! スポンジに蜂蜜(はちみつ)をふくませてもよい。 > <! アルミホイルの小皿(こざら) >
How to keep females
Keep the females individually. Put a sponge impregnated with water in the case.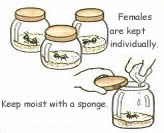 <! 1匹(ぴき)ずつ飼(か)う。 > <! スポンジで湿り気(しめりけ)をあたえる。 >
How to make ants dig a tunnel
Use the soil outside the nest entrance and inject water sometimes.